Following the first chapter of the Extraordinary Lights collection, Piaget presents the three following chapters in their exploration of light and beauty. The three collections presented study different aspects of celestial lights, each through a different chromatic choice and making technique.
Each pen in the collection is inspired by wood staffs popularly carried by storytellers of old, and adds elements inspired by the bonfires where people gathered to tell tales. A unique element in the collection is the clip, which looks like a twisted wooden root from the front, but evokes the Brothers' profiles when looks at from the side. Each cap is engraved with their tale's initials and the iconic phrase "Once upon a time…" in the original German.
---

Subscribe to our newsletter to get all the news  for those who chose luxury as a lifestyle.
---
GLOWING LANTERNS
Inspired by the floating lights of festival lanterns elevating through the sky, the Glowing Lanterns is a unique collection of jewels expertly made to evoke beauty. Tourmalines in cushion cut, delicately selected for their colour and conditions, take centre stage in a ring, a pair of earrings and a necklace. Baguette cut diamonds in white and yellow mimic the flow of light around the central tourmalines, and chrysoprase beads in apple green, fluidly tied in silk thread to create a moving illusion through the set. The necklace is specially striking thanks to two innovations that are a game changer in the jewellery industry: the central cushion tourmaline is encased in a crystal rock case, giving it a floating appearance, and also concealing an invisible lighting device that illuminates the green stone from behind, effectively creating a beautiful lantern at the heart of the necklace.
VOLUPTUOUS BOREALIS
Taking after the mystical aurora borealis, this set mimics the organic shapes of the sky lights with a mix of baguette and brilliant cut-diamonds, cut to adjust perfectly to their places in each piece. The visual lines in each piece direct the attention to the central emeralds, which took two years to find, as they are the purest in colour and form. The asymmetric setting in the necklace and earrings evoke the movement of the northern lights, and the wrist watch reminisces of light pillars. The set falls on the skin just like silk, thanks to the masterful articulation of each piece.
CELESTIAL BALLET
The Lyrid Meteor Showers come by the Earth once a year, and this time they were captured in this collection. Made from regal sapphires, the necklace, earrings, ring and ear cuff show a blue gradient in three tones. The ombré in this collection is beautiful and echoes the fallout of the trails in the sky as the shooting stars pass by. The most outstanding piece is the ring, which is designed to visually take up two fingers, as the gradient takes the eye from one end to the central 2.71 carat sapphire.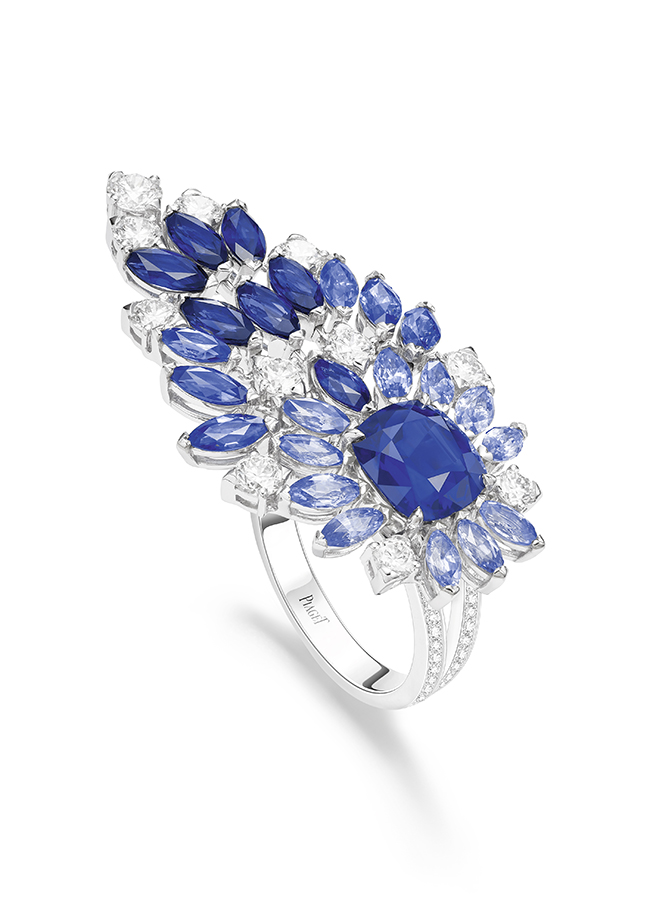 Photos: courtesy.