Place Vendôme is the setting for some of Paris' most iconic and well-established luxury houses. As such, it has served as the backdrop to some of these houses' key moments. One such moment involves Maharajah Bhupinder Singh of Patiala walking into the Place in 1928 and reserving thirty-five suites at the famous Ritz hotel. The royal's presence was enough to intimidate the common man, and added on to that, an immoderate taste for jewels further exalted his frame. During this stay, he could not stray away from acquiring French jewels unlike any other, and Boucheron was the chosen jeweller.
Maharajah Bhupinder Singh entered Boucheron carrying iron safes that contained diamonds, emeralds, rubies, and pearls by the thousands, which Louis Boucheron took and created outstanding pieces with. Now, in 2022, Creative Director Claire Choisne pays homage to this chapter in Boucheron's history with the creation of new jewels that echo those created almost a hundred years ago.
---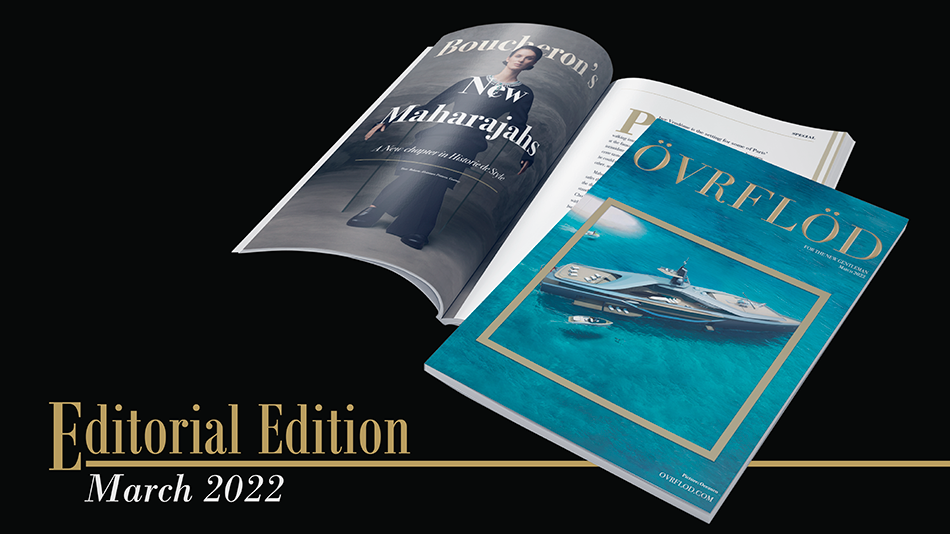 Subscribe to our newsletter to get all the news  for those who chose luxury as a lifestyle.
---
NEW MAHARAJAHS
For those men and women who want to express their personality and their own style, Claire Choisne created these pieces, which are a contemporary take on traditional Indian symbols and techniques. Stripped from most colour and favouring pristine beauty, each accessory is a call out to society's leading personalities to write a new chapter on Boucheron's Histoire de Style.
NEW MAHARAJAH NECKLACE
Directly inspired by the original piece created in 1928 for Bhupinder Singh, this necklace features a total of 40 carats of emeralds, and a central motif that can be worn as a brooch, separately from the main collar. Set with baguette-cut emeralds, the ends of the necklace are adorned with diamonds covered in rock crystal.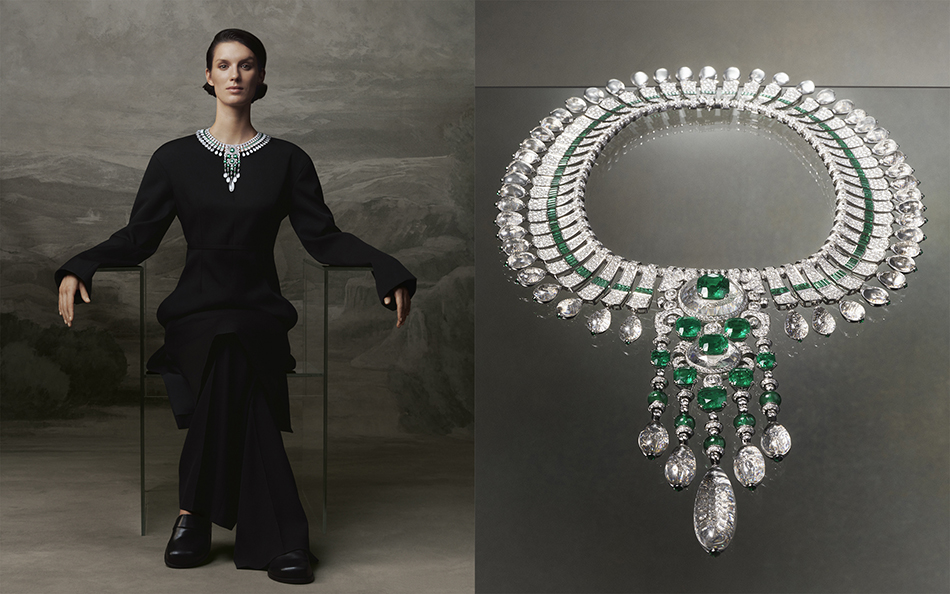 NEW MAHARAJAH EARRINGS
These are a reinterpretation of the central necklace, with a game of scale and repetition that creates a beautiful set of jewels that play off each other. 58 green emeralds cover the surface of these sun-dialled earrings.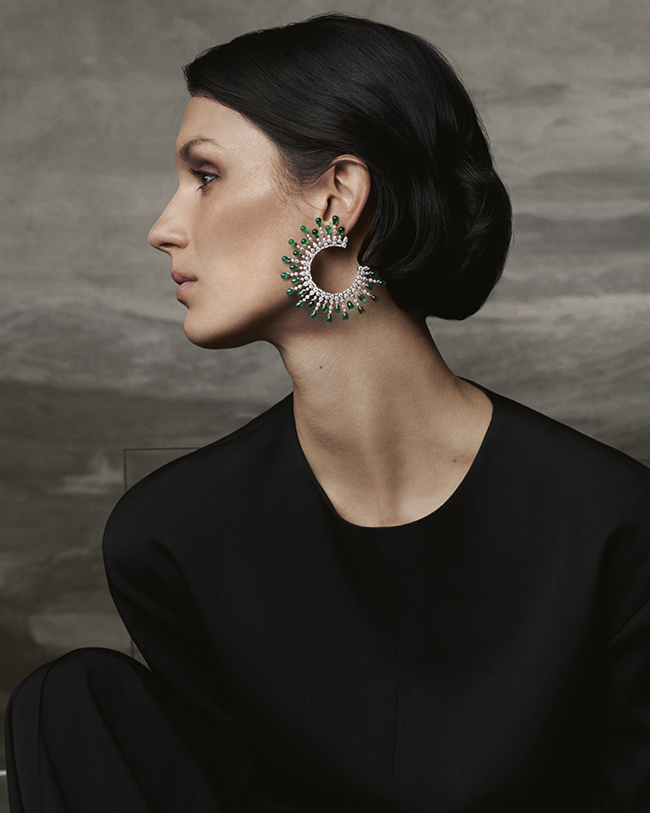 NEW MAHARANI NECKLACE
One of the most intricate pieces of the collection, this necklace was chiselled from the empty parts and built with diamonds around them. The lotus flower is the iconic centrepiece of this set, which matches with a pair of diamond and rock crystal ear pendants that echo the same flower. White gold and diamonds create a mesmerising look on this piece.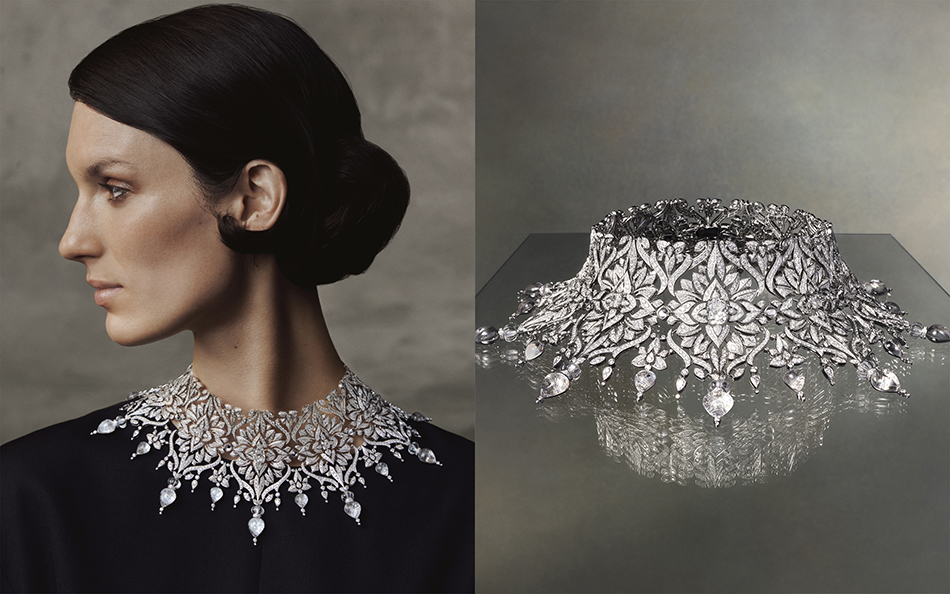 NEW MAHARANI CRISTAL NECKLACE
This necklace displays a glyptics technique unmatched in most jewellers, which involves carving the precious stones that conform it. Wearable as a long necklace, a short necklace, or a choker, the piece is inspired by traditional Indian long necklaces and the Indian notion of rock crystal interpreted as petrified water.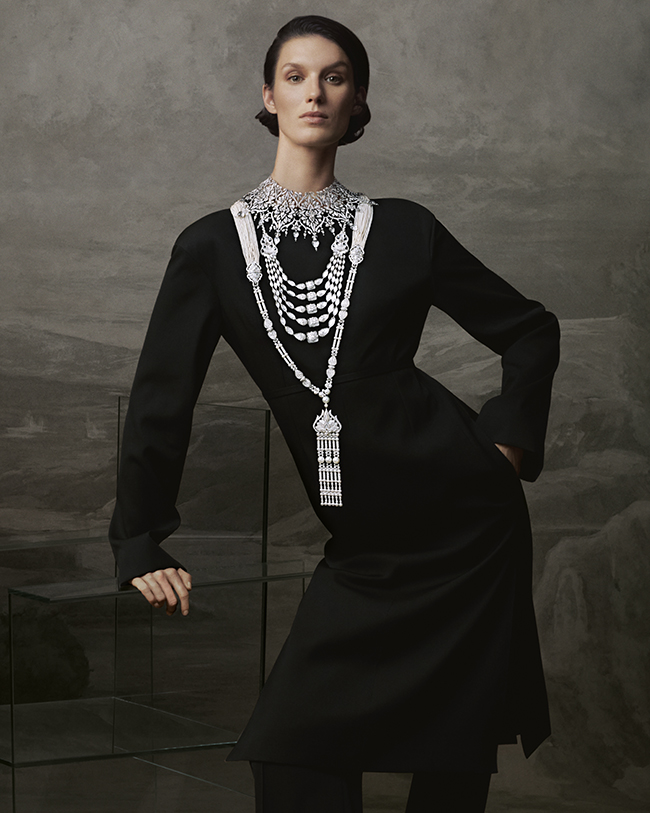 NEW MAHARANI NACRE NECKLACE
Japanese pearls cascade spring from this majestic necklace. A chiselled mother pearl lotus flower serves as a central motif for the multiwear jewel, which is ready to be used as a brooch or a long, short, or choker necklace, and even a pair of pearl bracelets.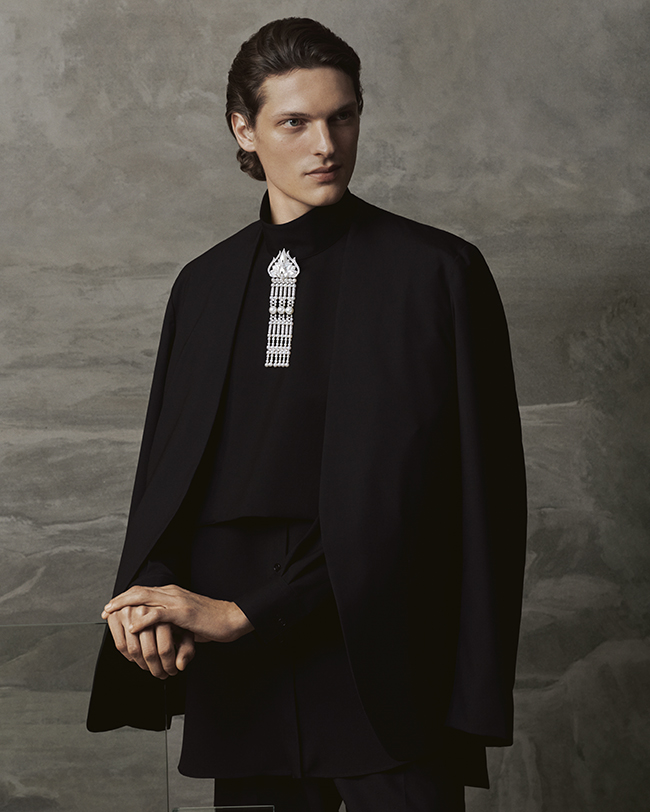 NEW PADMA NACRE EARRINGS
A symbol of purity, "Padma" means "lotus." Akin to a reversed necklace, this piece is laid on top of the ear, bringing a contemporary dimension to the padma concept. Gold and pearl beams extend from the ear, finishing off in mother of pearl drops and diamonds.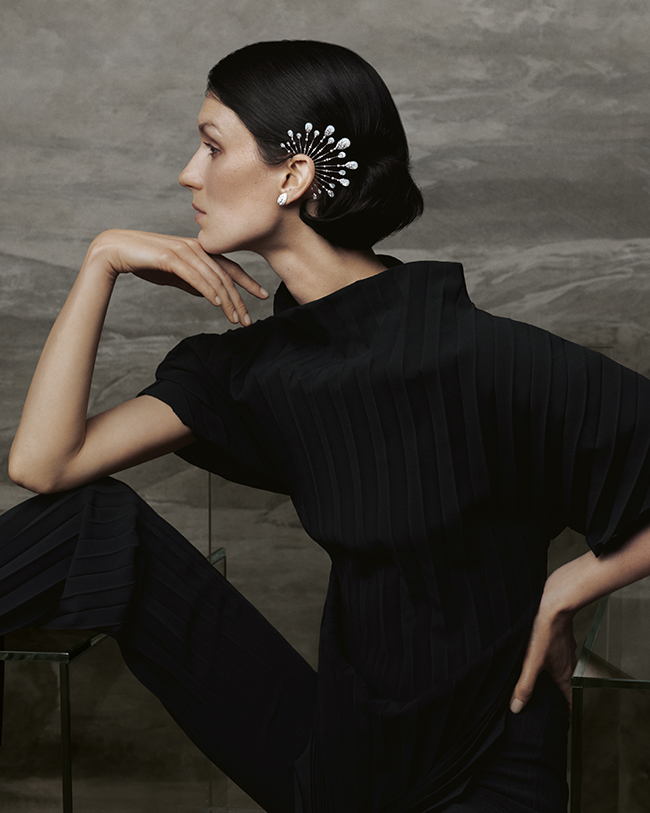 NEW PADMA RINGS
Two rings of radiant purity, one referencing Boucheron's Parfum ring, the other sculpted in rock crystal. The first one shows a lotus flower on a rock crystal dome mounted on cacholong, while the latter is paved with baguette diamonds and holds a pear-shaped diamond at its centre.
NEW CHURIYANS BRACELETS
Worn by women on their wedding night, the Churiyans bracelets are considered tokens of protection. Now forged in white gold and set with diamonds and pearls, mixing different textures and an off-white palette that varies through the whole set when light and placement come into play.
NEW SARPECH
A turban ornament, this brooch is a reinterpretation of turban tradition. A contemporary take of Maharajah's aigrettes, this piece is set with diamonds and its curls are highlighted by rose-cut diamonds.
Photos: courtesy.