Cuisine is not only based on the final product on the table, it is about the dance between the heat of the meat on the grill, the meticulous brushstrokes of the dressing, the methodical selection of herbs; an artistic composition born from the land and culminating in the palate. Maní is that corner of São Paulo where contemporary art and high cuisine will accompany you in each of its facets.
The compere Fernanda Lima, in search of a more organic and natural gastronomic exhibition, decided to start this ambitious project in the company of Pedro Paulo Diniz, her friend Helena Rizzo, previously a cook at the Roanne restaurant and an intern at the Italian restaurants La Torre and Sadler, and her manager Giovana Baggio, from the Rio Grande do Sul. Thus, arising from the ambition of this group of artists, Maní, which for twelve years has stood out for their preference for small producers, their simplicity, and seasonality, has earned various national and international awards, including a place in the annual ranking of The World's 50 Best Restaurants.
---
Subscribe to our newsletter to get all the news  for those who chose luxury as a lifestyle.
---
Artistic expression accompanies Maní from its foundation, devoting an entire canvas to various artists interested in participating in the Corredor do Maní: a masterful tunnel that synthesises the essence of the place in an experience that combines art and flavour, welcoming diners into the building. After entering through the Corridor, the intimacy continues, having privileged contact with the chefs and staff through an open kitchen concept. The artistic project extends this experience with the possibility of audiovisual and scenographic installations as well as traditional artistic expressions, such as painting, sculpture, and photography.
With simplicity and comfort in mind, interior designer Mariana Kraemer and architect Juliana Overmeer create a contemporary environment with a fresh, elegant, solar aura. The space presents a concept that combines a contrast of visual languages ​​in the constant search for balance: the handcrafted textured walls, demolished wooden structures, native landscaping on the terrace, and pergolas with jabuticabeira branches, make the environment an aesthetic delight.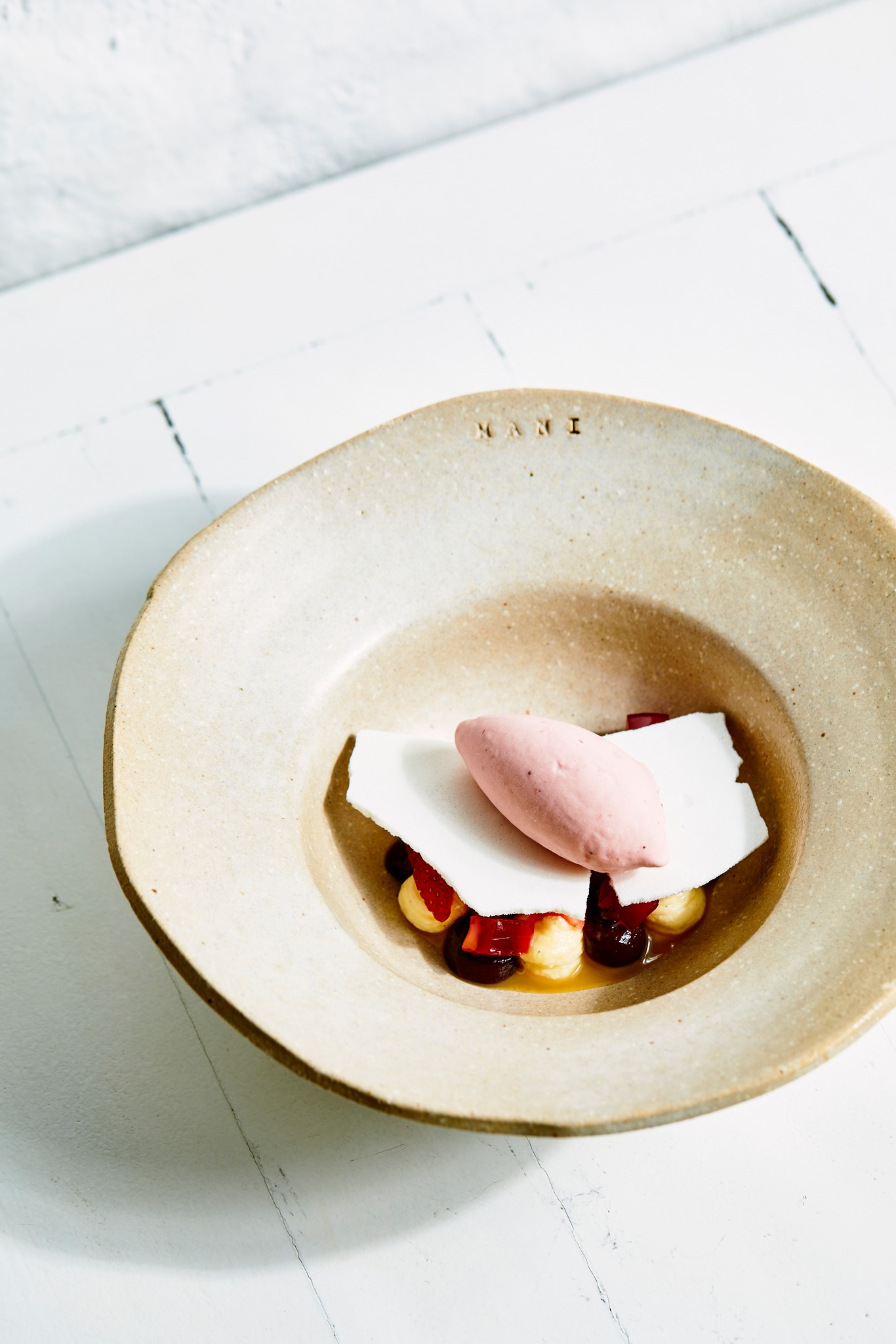 Maní provides a four- and five-course menu, which in addition to an appetiser, a main course, and a dessert, can include a dish from the tasting menu designed by chefs Helena Rizzo and Willem Vandeven.
Enjoy a unique aesthetic and taste experience in a venue that combines technique and flavour, invention and tradition, provocation and affection.
Photos: courtesy.