Cradled in the heart of Mexico City, one of Mexico's most innovative rising stars founded Lorea, a degustation restaurant whose specialty is serving surprises. Oswaldo Oliva, considered one if the best cooks of his generation, studied at the Ambrosia Culinary Centre and later embarked in a culinary adventure through Europe, where he worked with Andoni Luis Aduriz. Nowadays he manages Lorea, a restaurant whose menu is constantly being reinvented to surprise every day using the freshest seasonal ingredients from every region of Mexico.
With such a fast-changing menu the experience is hard to describe; every visit to this magical restaurant is a unique, one-time treat. On this occasion, Chef Oswaldo Oliva prepared a special eight-course menu that matches ÖVRFLÖD's essence by bringing the art of luxe to the table.
---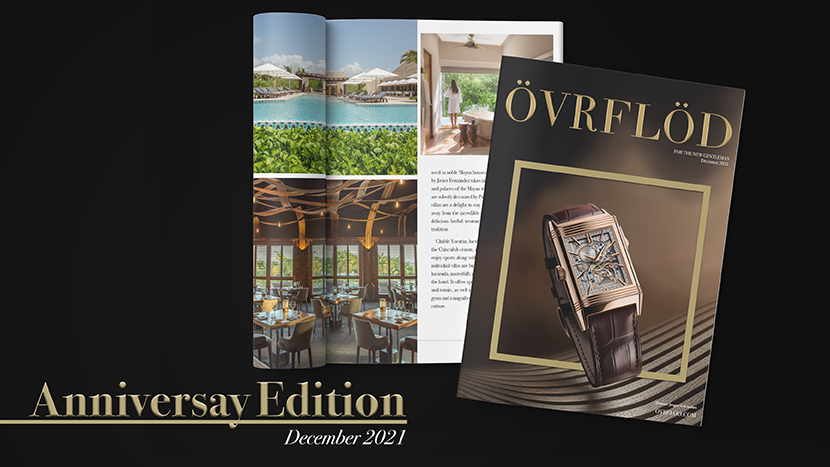 Subscribe to our newsletter to get all the news  for those who chose luxury as a lifestyle.
---
We start the experience with a salty aperitif of homemade cecina with avocado and tomatillo. The crisp salted meat serves as a base, similar to a tostada over which salsa and avocado are carefully laid. The salt of the meat makes a perfect contrast with the sweet salsa, creating an optimal plate to begin the tasting experience.
A soupy plate comes next, with medium unctuousness and a strong bitter aftertaste: a huitlacoche and string cheese soup. With a profound taste of corn and the perfect amount of salt and bitterness, this soup was perfectly thought to be paired with Louis XIII, Grand Champagne's signature cognac, which spends between 40 and a hundred years aging to acquire its unique taste. This course's taste is specifically designed to bring forth the cognac's softest notes, and the long permanence of the taste of huitlacoche, Mexican black gold, combines with the prolonged texture of the drink.
The main courses consisted of three experiences that build on this last dish. First comes heirloom tomato with roast squid paste. This plate's rich variety of textures, combined with a strong marine taste and high unctuousness, are a perfect example of the complexity that Chef Oliva and his team at Lorea are capable of achieving.
Next, a sweet shrimp broth envelops three pieces of while aubergine with green curry, a hard to pinpoint given its mixture of sea and vegetables and a texture that oscillates between soft and crunchy. Visually, the curry drops floating in the broth remind of a clock's dial, an echo of the beauteous pieces by Jaeger-LeCoultre that Chef Oswaldo aesthetically paired with these dishes in a special collaboration with ÖVRFLÖD.
The last of the main courses is a topinambur taco, a fleshy edible tuber seasoned with red mole and purslane. This delicious grilled dish makes a good contrast with the previous salty delicacies and serves to cleanse the palate and enjoy a more contained taste while continuing to surprise the senses.
To finish the experience a burnt milk ice cream is served bathed in beet atole sauce. Signature ice-cream is one of the chef's specialties, having collaborated in the first edition of Conversaciones Heladas: ice-cream in avant-garde haute cuisine. By pairing the sweetness of burnt milk with beetroot juice, presented in the shape of one of the most traditional Mexican drinks, one obtains a long-lasting, balanced taste that reminisces of camote and other sweet tubers, an unexpected flavour from a root like beet, which is often associated to stronger flavours.
The second and final dessert draws its inspiration from the world of flavour of Louis XIII: a pumpkin tart with vanilla ice-cream and topped with pollen. Both the tart and the ice-cream bring forth the cognac's sweet, floral, and fruity notes while the pollen, which has a spicy aftertaste similar to cardamom, complements the exquisite permanence of the drink in the palate, marked by a taste of wood and leather.This tasting dinner is a demonstration of the great qualities of Mexican ingredients when applied to haute cuisine, with techniques and flavours that cannot be found elsewhere. This preparation hand in hand with Owsaldo Silva, doubtlessly one of the most recognizable in the medium, is a celebration fit for an anniversary and to remember the most fundamental aspects of a unique experience: an edible work of art, and a menu that embodies the art of luxury.
Photos: Erik López Hernández.