ElBulli appeared in Spain and for a long time was catalogued as one of the best restaurants in the world up until its closure in 2011. This incredible space left behind an impactful legacy for international cuisine, and the many talents that worked there could not stay away from restaurants for long. Such is the case for chefs Oriol Castro Forns, Eduard Xatruch Cerro and Mateu Casañas Puignau, who were elBulli's kitchen chiefs. They partnered up in 2012 to open Compartir in Cadaques, and later, the iconic Disfrutar in Barcelona, in 2014.
Located in the Eixample district, -Disfrutar debuted in 2018 on San Pellegrino World's 50 Best Restaurants, in the eighteenth position, earning the Highest New Entry Award. Disfrutar has since climbed up the ladder to the fifth position in 2021, a demonstration of their commitment to quality, experience, and surprise, which is a key element in the restaurant.
---
Subscribe to our newsletter to get all the news  for those who chose luxury as a lifestyle.
---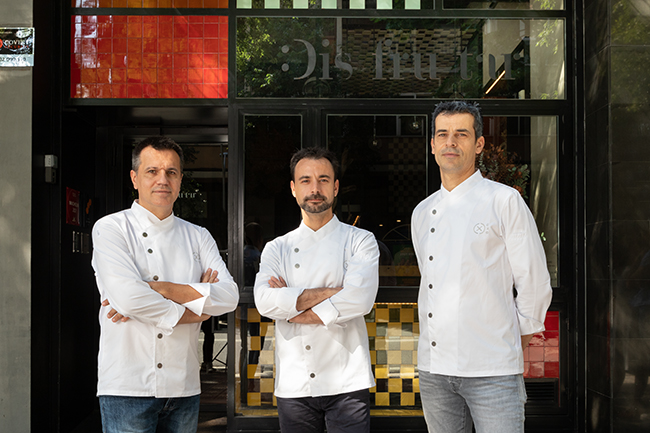 The space is decorated with precious ceramics, guarding a creative kitchen and unmatched experiences that keep diners at the tip of their toes. Always aiming to delight, surprise, excite and create through gastronomy and cuisine, the chefs have chosen the tasting menu format to approach guests. They even recommend just going for it: don't read the plate's descriptions too intently and let yourself be surprised by the unexpected flavours in every bite.
Four menu options are available, the Gran Classic and Disfrutar Classic serving dishes that have become a staple in Disfrutar's kitchen. The Gran Festival and Disfrutar Festival options are ever-changing, as they serve seasonal ingredients and flavours.
Some of the most iconic dishes include tomato dry pastry with arbequina caviar, panchino bun stuffed with caviar and sour cream, and multi-spherical pesto with pistachios and eel.
Since its creation, Disfrutar has consistently earned a place on the World's 50 Best Restaurants, two Michelin stars, and awards such as Best Chef Top 100 Awards, Best Restaurant of the Year by the Catalan Academy of Gastronomy and Nutrition, three suns on the Repsol guide, and the best interior design buy the Restaurant and Bar Design Awards.
With the joint creativity and experience of three of the best chefs in Spain, and a complete devotion to surprise and delight the palate, Disfrutar is a referent in high cuisine as no other in the world. Flavours echo the incredible designs that adorn the walls and dishes break all established norms for haute cuisine.
Photos: Francesc Guillamet, Adrià Goula y Joan Valera.