"Lorea is a luxury restaurant. […] We offer out-of-the-ordinary experiences, celebration, adventure and the sense of discovery when in the mood of something different, of being taken step by step, not worrying about choice and have everything hand-picked for you."
Arriving at a new restaurant for the first time and choosing a brand new dish is a fun and exciting experience. A second visit may offer the opportunity to order a different option glanced at on the previous occasion and compare both plates. However, upon a third occasion, the same old menu is bound to become boring. The excitement of something new gets old and future experiences lose all sense.
Chef Oswaldo Oliva's offer is to forfeit static menus in favor of new flavors every day. The preferences, likes and exigencies of the dinner guests make the kitchen team work hard and imaginatively to create a custom made menu.
For Chef Oswaldo, fresh ingredients and daily creativity are the components of the value behind any restaurant, especially Lorea. Commitment to step outside of the routine on a daily basis may bring forth new and strange flavor tinges, but not in Lorea. Chef Oliva's cuisine employs habitual flavors reminiscent of childhood and home.
"It's an integral plan, and it optimizes seasonal resources. There is no need for repetition and therefore boredom. It is very important in any home, and it should be important in any restaurant too."
Just getting into the restaurant is an experience all of its own, or at least that's how I lived it when interviewing Chef Oswaldo. Alelí is Lorea's sister restaurant born as a secondary project. It is located in the ground level of the same building, where it is evident Alelí functions during the day and on top of it, Lorea works on evenings. Two different concepts laboring in unison, an idea that came to fruition the moment Oswaldo and his wife discovered the venue. That day, I had to climb up the backstairs connecting both establishments.
Setting foot on the restaurant, I was greeted with a warm light reflecting on the dark wooden tables. The choice of this natural finish on the furniture perfectly combines with the color palette of the place, neutral tones such as ivory and beige taking dominance. On top of each table sits a wooden piece embellished with natural plants, harmonizing the whole space.
Walking through the room a sensation of comfort and wellness took over me. Looking up, a dangling wooden chandelier vibrated with the muted tones on the walls. Deep grey shades on the bar and chairs denote a sophisticated style making the whole space elegant.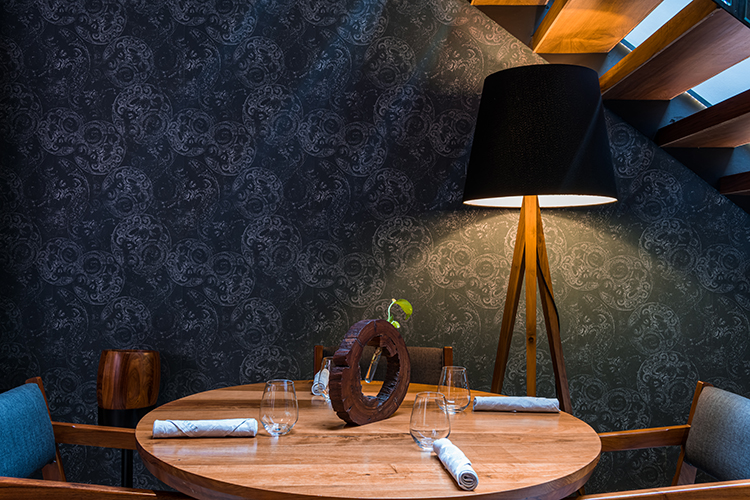 Walking up the stairs on the right side of the saloon, a private alcove served as meeting room for Chef Oliva and me. Youthful and jovial, Chef Oswaldo held a great conversation. Feeling almost as if we had known each other from a long time ago, Oswaldo spoke of Lorea, how it was a family business for him and the long road he took to get the restaurant to its current status. He also delved into his time as a chef in restaurants such as the famed Mugarits and Cellier de Can Roca in Spain; and how he returned to Mexico to achieve his restaurateur dream.
"The plan started just like that. We had a dream, we wanted to give it a shot, the steps are here to follow. The first of them, step one, is to get out of here [Spain]."
With an ever-changing menu, Chef Oliva is committed to creating a unique game of flavors for each dinner. If needed be, each client is also provided with pairing out of a select variety of only fifty wine types and a special array of national beers handpicked by the kitchen staff. Whatever one tastes on any given night is a one-time-only experience, since Lorea will surprise guests the next day with a new and singular menu.
The most awaited moment came next, when I finally got the chance to taste the menu Chef Oliva had prepared that day. Kicking it off were four bite-size preparations. An asparagus and ham mix topped with honey; sweet potato, grounded sauce and beef tongue; smoked tendons with beans; and dried meat seasoned with tapenade and chocolate make up this entrée. I immediately thought of Chef Oswaldo's time in Cellier de Can Roca, Spanish restaurant that clearly influenced these recipes of his. While it is not his intention to rip-off his teachers, just as he mentioned during our interview, it is still obvious those experiences marked him and ooze into the menu.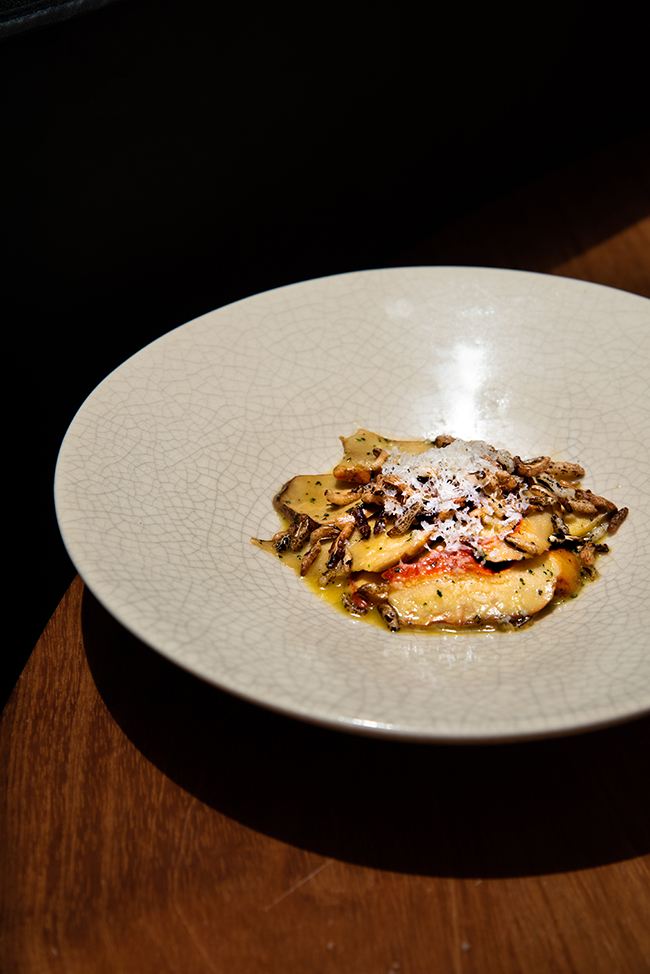 Next up came eggplant mochi and creamy mushroom polenta, quickly followed by dressed fish with a quintonil sauté. The characteristic herby flavor of the plants and the smoky feeling of the dressing sauce promptly reminded me of typical Mexican cuisine from the center and south of the country.
Other national ingredients were features in what I consider the highlight of the day: a corn cob riddled with huitlacoche, a type of fungus that originates in corn fields and is considered a Mexican delicacy. This dish balanced the strong flavor inherent to huitlacoche with barley and quelite herbs to create what is probably the most impressive dish Lorea offered that day.
Finally, a beef portion grilled with rosemary simulated a sort of pasture on the plate. This course reminded me of the Christmas feast my mother would prepare every year to please and impress, and most of all, spoil, my siblings and I. Maybe that is what Chef Oliva meant when he spoke of custom dishes; maybe that is what Oswaldo tried to communicate when he said his style was inspired on his own mother.
After the feast, a digestive broth with aromatic herbs reminiscent of Chartreuse made its appearance. Served in a small crystal pot not different from an English tea set, this delicate culinary expression is a creative choice that encourages one's palate to try the next and final part of the menu.
My clear favorite was the dessert course, first dish being an array of small crimson and violet circles upon a white plate and drizzled with olive oil. With the first bite came the unctuous sensation of almond puree and a fresh smell of cherry and red fruits. Bitter flavors prevailed upon a second tasting, jam and citrus coming forth.
The second dessert consisted of a delicious passion fruit ice cream accompanied with toasted chocolate and Mimolette cheese. While the smell was highly varied, the combination felt so silky and unified it felt like one single harmonious preparation. As such, this was probably the best example of Chef Oliva's approach to cooking: tender like a mother's caress.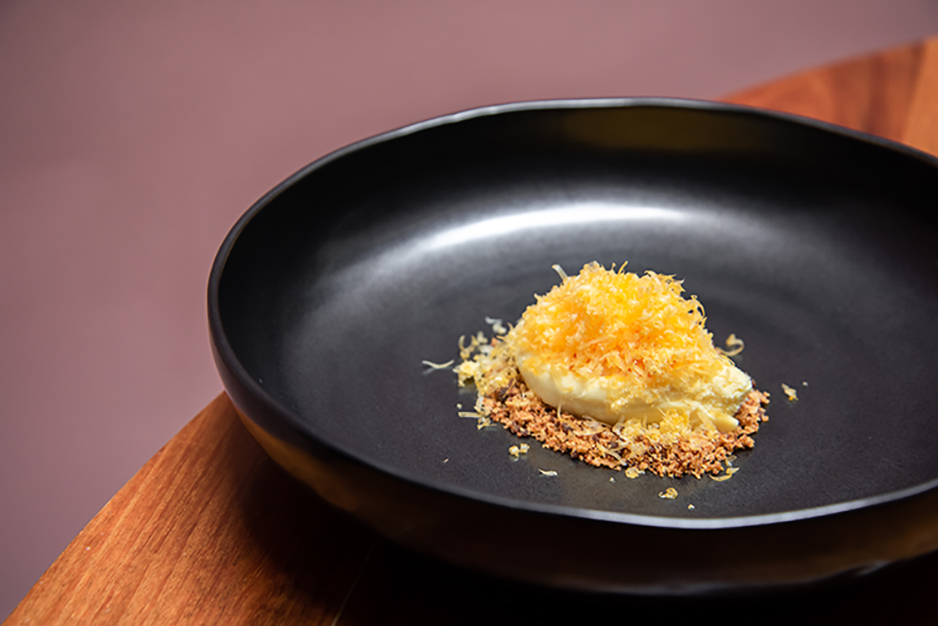 After the deep conversation Chef Oswaldo and I had, it was no surprise the next and final dishes represented his unrelenting love for Mexico and its culinary traditions. A tempura squash flower rested on a bed of pumpkin seeds serves as a visually appealing closure to the menu. As a small closing detail, a Real Xoconusco dark chocolate from Chiapas offers a bitter and precise flavor to finish off the experience.
And so my visit to Lorea, located in Cuauhtemoc Street 141, came to an end. Whilst leaving the place, a certain warmth washed upon me, I felt tenderly close to my own home, amidst family. It was then clear to me what Chef Oswaldo Oliva's proposal with his authorial cuisine was: it symbolizes the maternal culture behind Mexican gastronomical tradition, with a unique style, which swiftly brings childhood foods into high diner.
"Every single day my mom would cook restlessly, those moments always made me feel happy. It's a unique opportunity, and that ritual is what I try to bring forth every day in my kitchen".