Trainer of legendary heroes such as Achilles, Jason, Theseus and Hercules, Chiron was a centaur capable in the artistic, physical and moral aspects. Now, millennia later, Bugatti presents the latest driving machine, embodying all of the aforementioned centaur's capabilities, in the form of the Chiron Pur Sport, an elegant, powerful machine "fast in corners and voracious on roads".
The purest machine born from Bugatti to date, the Chiron Pur Sport is a thoroughbred created for any environment. Aerodynamic and fit for the winding country roads with lowered weight and downforce for prime agility and stability combine in this new model. With the down-to-earth goal of achieving extraordinary yet tangible feats of performance at any speed, the Chiron Pur Sport rises as a sophisticated and relentless machine.
Improved design through and through, the Chiron Pur Sport is conceived out of the necessity of an agile car capable of dynamic cornering. 50 kilogrammes lighter than the previous Chiron Super Sport 300+, a wither front with extensive air inlets and a dynamic expression coupled with a 1.90 metre spoiler with a fully automatic extension system create a powerful downforce and allowing for better maneuvering.
As always, cutting edge technology is of prime importance at Bugatti. 3-D printed titanium creates a light and sturdy exhaust tailpipe, while the technical department teamed up with Frank Heyl to develop new magnesium wheels with aero blades. These blades guarantee ideal ventilation and create an aerodynamic path for air to follow backwards. Ultralight, these wheels provide a better grip on any surface, assuring an accurate and direct handling of the vehicle. New tyres are also available thanks to Michelin and Bugatti, with new fitting dimensions and a modified rubber mix for maximum grip.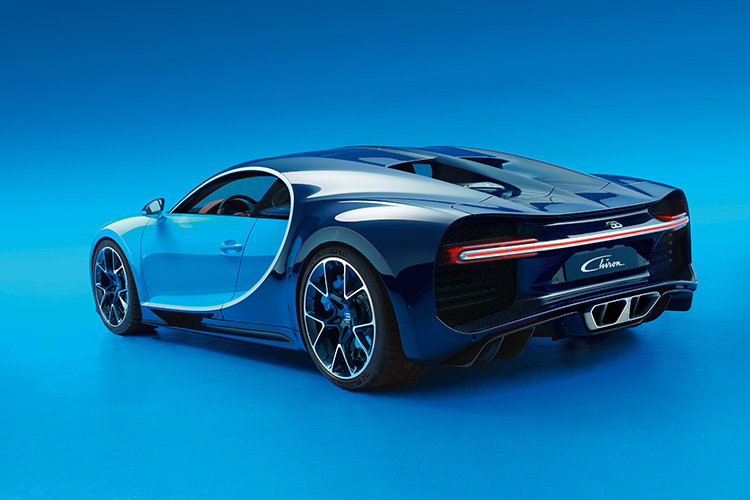 A super stable chassis with added suspension makes for a very direct and accurate steering through bends and high-speed maneuvering. Carbon fiber stabilizers and an ultralight design allow for a formidable performance, further enhanced by the Sports+ mode, enabling drivers to freely choose between sharp lines and long drifts along corners.
Impressive torque of 1600 newton metres and 1500 horsepower prove the value of the 8.0-litre W16 engine. A super tight gear combination further pushes the dynamic handling and allow to enjoy any speed up to 350 km/h. With a total of 6900 rpm, the improved W16 motor accelerates from 60 to 120 km/h almost two seconds faster than its predecessors do.
Interiors fully laced with Alcantara, the bare minimum is present to guarantee a comfortable and lightweight experience. Maximum comfort is achieved with sturdy wheel and seat material, assuring support even on the sharpest turns. Aesthetically pleasing, the aerodynamic design features a deep electric blue and grey, with an optional, very elegant design alteration: the bottom third is entirely exposed carbon fiber, a deep dark grey that matches most of the roads the Chiron treads. With an even flatter appearance, the Chiron Pur Sport is a pleasure to look at on both the inside and outside.
Limited production of 60 units will commence in the second half of 2020, when Bugatti will offer the Chiron Pur Sport at three million euros per unit. Considered to be one of the finest pieces of machinery and engineering by the Bugatti house, this brilliant vehicle represent the pinnacle of innovation and tradition, pushing the boundaries of physics further than any other has done before.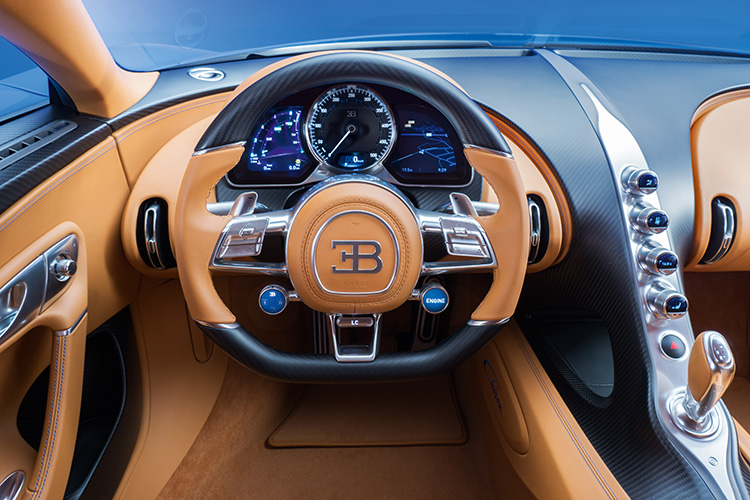 Photos: courtesy.