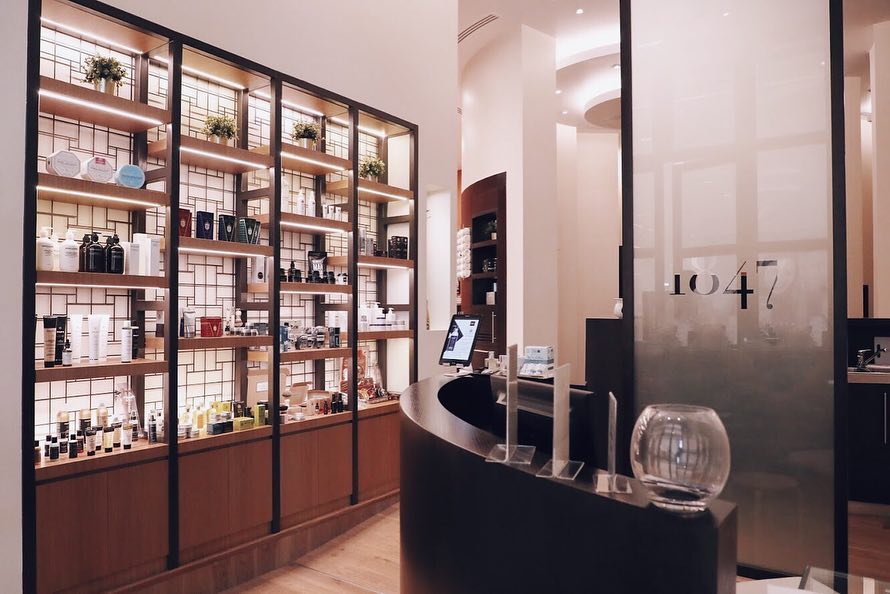 Influenced by the revolutionary invention of the razor machine by William Henson, The Grooming Company is a new barber shop concept which stands out from all others. A sanctuary for men who wish to nurture themselves and relax, forgetting about urban noise and hustle, and submerges clients in a sophisticated atmosphere of treatments and services to achieve an integral care. This is 1847, an establishment that will take care of all its client's needs with world-class treatments. International self-care products can be found here, an exclusive location in the United Arab Emirates.
1847 opened in the Emirates Towers Hotel, becoming the first grooming center in the Middle East that forgoes traditional barber procedures. Their second location opened in the Grosvenor House Hotel, quickly followed by another three in all corners of residential and commercial Dubai. A unique aesthetic concept with a contemporary vibe, 1847 offers a wide menu of services for the modern gentleman who seeks only the best. The most recent addition to the 1847 family is a safe haven for gentlemen to relax, rest and reboot, providing masculine care treatments of excellence, from hair styling and beard trimming, to manicures, pedicures, hair removal, massages and facial treatments.
The 1847 gentleman can experience the different services offered in a masculine and sophisticated atmosphere, and get help from the specialized team of experts in assessing styling and skin care treatments to achieve the best version of oneself. Many of the shop's treatments include products from the best self-care brands in the world, such as Murdock London, The Grey, Floris, Tom Daxon, Malbec, Patrick's, K Beauty and Escentric Molecules. Clients can purchase the products of all treatments at 1847, so they can bring the experience of care and relaxation back home, and furthermore explore the boutique lines, specially curated by the style and care experts. 1847 also keeps on bringing new concepts to the region, the latest of which involves master masseur Satory Iwata, specialized in a plethora of techniques and Japan's Prime Minister's official therapist.
1847 launched an elegant VIP room where clients can enjoy treatments in the maximum privacy and commodity. The saloon is a refuge where relaxation is not quick, it is thought for men who look for a personalized service. Valuing time and privacy, users can enjoy the discreet and private space for treatments in the room, which houses a leather deep chair for manicures and pedicures, a luxury barber chair for maximum commodity, a prime massage table and a hydromassage shower in-room, as well as a widescreen TV with Apple TV connectivity and a private library. In all, the newest VIP room is a personal oasis that ensures satisfaction.
Unique to the United Arab Emirates, The Grooming Company stablishes the industry's standards in the region regarding masculine care through a wide variety of select services, exclusive concepts, capable personnel and the best products. Attention to detail, prime service, products, and exceptional experiences are the staple in 1847.
Photos: courtesy.