Most children grow up with a dream profession in mind: some want to be artists, engineers, astronauts, firefighters or soccer players. This last one was hammered in the mind of Dabiz Muñoz, who, with his early abilities, managed to rank into the Atlético de Madrid Futbol Club, where he got to play in the second division B. Muñoz was unaware of the drastic change that would come to his life when he was 12 or 13 years old, when visiting, by family tradition, the Viridiana restaurant in Madrid: Muñoz was quickly seduced by the stoves at the hand of Abraham García in this fine dining restaurant.
Dabiz Muñoz found his link with the kitchen and sensory seduction, and his main inspiration was the aforementioned chef Abraham García, and thus he began a cooking career at home, mixing recipes and creating flavours new to him. This is how Dabiz abandoned the hobbies common to children his age and began work on his childhood dream: establishing his own famous restaurant where people would have to be put on a waiting list to dine. His father often said to him he "would only achieve that when pigs grew wings", until Muñoz proved him wrong by owning one of the world's 50 Best Restaurants and one of the most emblematic dining locales in Madrid, as well as brandishing the world's most prestigious gastronomy award in the form of three Michelin Stars. And thus, DiverXO was born, along with its icon: a winged pig.
After finishing his studies, Muñoz wished to get familiar with as many different kitchens and cooking styles as possible, and in 2002 he moved to London where he worked at different French, Italian and Asian restaurants, such as Hakkasan and Nobu. 5 years later, Dabiz returned to Madrid to open his first restaurant, DiverXO's first iteration, in 2007. A small space with little décor and not even a food cellar, Muñoz was happy enough, as for him ostentatious architecture and grand interior design are secondary to the sensory pleasure around the dishes and the relaxed and fun experience diners may have.
In 2009, Muñoz began a new stage with DiverXO's new location, while facing challenges a many. Despite all setbacks, the restaurant was soon praised with two Michelin Stars in a two-year period, and by obtaining the third consecutive star, DiverXO became the only restaurant in Madrid to achieve this, and Dabiz Muñoz, at 33 years old, became the second youngest chef to manage this feat.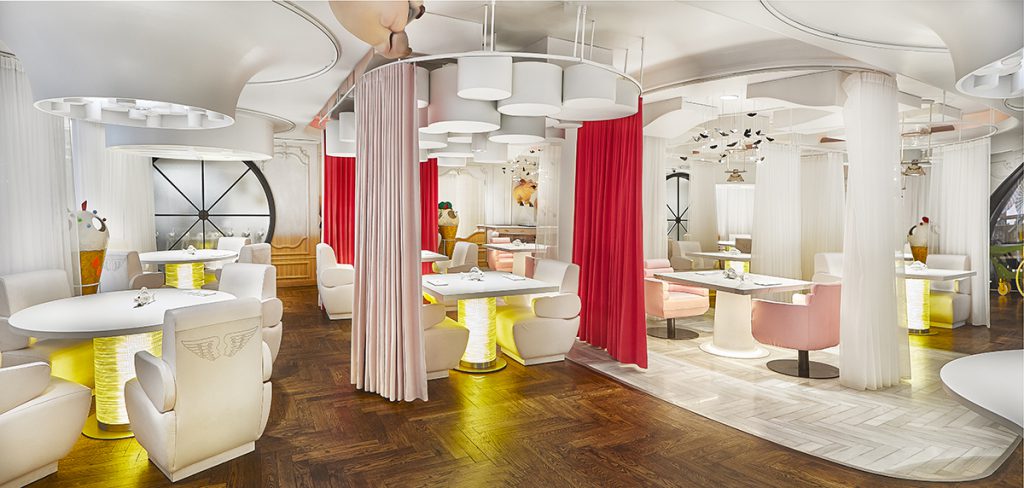 Photos: courtesy.