A connecting nexus between New Delhi in India and Providence in Rhode Island, in the United States, stands tall as a mark in the world of industrial design. INDO, award winning brand on the furniture and object design areas, was founded by Urvi Sharma and Manan Narang, both native to the Indian capital, while residing in the American Northeast.
INDO takes both the American and Indian culture and merges them, creating aesthetic and versatile articles to accommodate to the common points in both places' lifestyle. Furthering this interesting amalgamation is the creation process itself: traditional craft and modern manufacture come together to innovate with the design result and pay tribute to the people and places inspiring the works.
This inspiration is clearly shown in each of the collections, each exploring its own intimate expression of tradition and novelty with the unique INDO twist on it.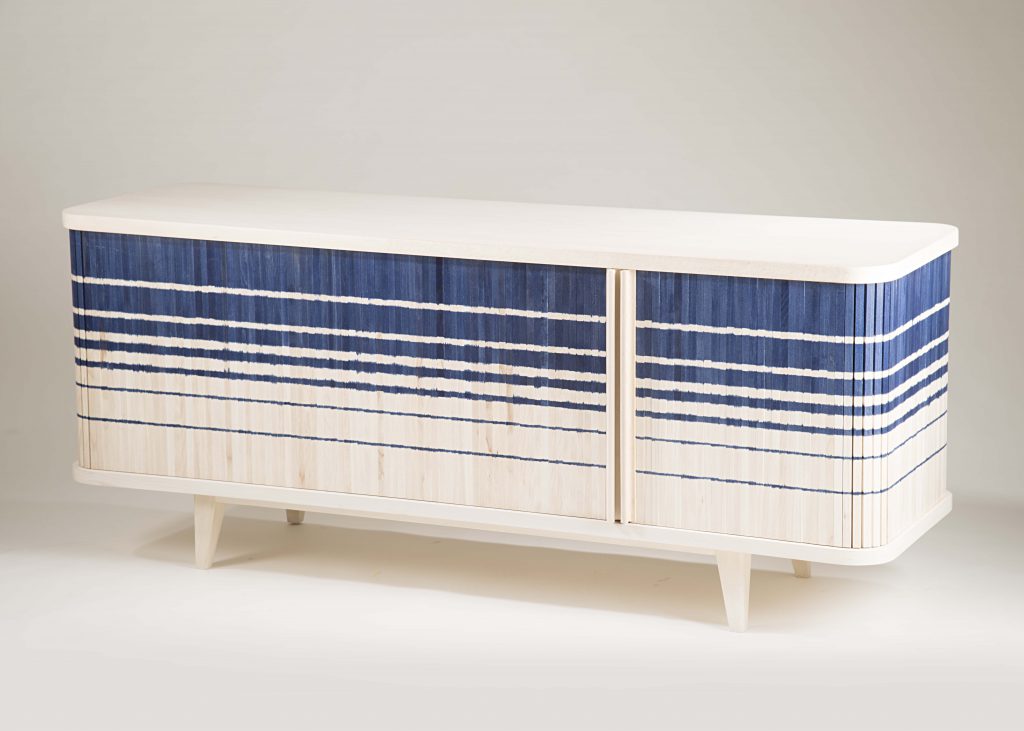 IKAT collection takes directly from the Ikat weaves praised in several Asian regions, including Indonesia, Japan and of course, India. In the traditional fabric, individual warp and weft are dyed on their own to later be hand-weaved into an intricate pattern, with slightly blurry edges upon the design. The resulting fabrics are often passed between familial generations, given the skill and dedication necessary to create the final product. In the case of INDO, the same concept of treating individual components before bringing them together is thoroughly kept, hand-dying each wooden panel in the furniture to mimic the end result of an authentic Ikat fabric. Each piece in this collection is slightly different, given the artisanal process, and the resulting credenza creates the illusion of rolling fabric in a subtle shoutout to the original handicraft.
Moodas are low stools common in Indian craftsmanship, created from two sets of straight sticks stitched in opposite directions, creating a hyperboloid, a strange curved shape which does not easily reveal its straight-line composure. INDO presents the MOODA collection, which takes this technique and plays around with its application beyond simple seating. High-quality mirrors and lampshades offer an exquisite twist on this concept and decorate any space with elegance stemming from their inherent simplicity and apparent complexity.
The CHAR collection brings the charpai, a woven bed which is a mainstay in Indian households, into the contemporary design. Literally meaning "four legged", the charpai is light enough to be moved around effortlessly and sturdy enough to support an enormous amount of weight on top of its interwoven surface. INDO implements advanced techniques like split turning and adding high-quality thread for the weave to innovate on this traditional design, all while maintaining the core essence.
Finally, the PILAR collection retakes Gaudi's architectural elements and the typical Catalan glazed ceramics. Dip dyed, the wooden pieces feature a subtle gradient akin to the ceramic finishes and are hand-carved into a fluted finish, creating a visually interesting piece of furniture while offering an intimate, tactile experience. Simple, functional and contemporary, the tables from the PILAR collection can double as a statement piece and a beautiful accent to the space they adorn.
INDO has been recently featured in the most relevant design events and recognitions. Chosen as part of the Dwell 24 Emerging Designers of 2019, INDO has also been praised as the 2019 NYCxDESIGN Emerging Product Designer Award and the Providence Design Catalyst Grant 2019.
Undoubtedly, INDO is one of the most interesting proposals in the world of design, offering a fresh and innovative proposal for both Occidental and Oriental households. The perfect bridge between the modern materials and the traditional techniques, resourcefulness and sustainability are held at a high standard by INDO, making sure each client is satisfied. All designs are available in solid American hardwoods such as maple, white oak and walnut, complemented with natural granites, but a custom wood can be used upon special request. All in all, INDO builds a beautiful metaphorical connection between cultures and times, a sincretic mix of tradition and innovation to decorate any home with high-end furniture to create a personal statement unique to your own space.
Photos: courtesy.