Montblanc has distinguished itself as a synonym of excellence and luxury from its conception in 1858. In 2020, this tradition of high standards is held high with the new arrivals to their emblematic watch lines. New technological advances are incorporated with design excellency to offer the best experience when wearing one of their iconic watches, all of which masterfully connect the past and the future.
2020 sees new additions to the Heritage, Star Legacy and 1858 collections, all of which implement SuperLuminova, allowing for better visibility in low-light conditions. Each watch is also available with different Sfumato leather straps in different colours and is resistant to water up to 50 metres below the surface. Polished sapphire on their covers ensures a clear view and high damage resistance.
Each of Montblanc's collections take classic elements from different iterations of the Minerva watches, part of the watchmaking tradition started by Charles-Yvan Robert some 160 years ago. Each watch is a statement on timeless syncretism. Star Legacy collection takes style hints from the Minerva pocket watch popular in the early 20th century, mixing in a 43 mm box and an elegant design for an accomplished informal, stylized look. Heritage collection pays homage to the neo-dandy style, the spirit of a man who prides himself in starting trends and parting with preconceived conventions. Heritage takes watches from the mid-1940 and combines it with elegance and sophistication inherent to a high-end watch, complete with new and bold colours to satiate the thirst to create a style of one's own. Finally, the 1858 collection treads into Montblanc's own history and recreates the thrill of creating useful and resistant watches ideal for mountaineering and exploration typical of the 1920's.
The most notable additions to each collection are as follows:
STAR LEGACY
Two new watches are added to this collection, both with an open back lid that allows to observe the delicate clockwork keeping the watch moving. They also feature a steel box and represent a single idea: contrast.
MONTBLANC STAR LAGACY AUTOMATIC DATE 43MM
The new 43 millimetre presentation serves as an expression of the elegance of a watch, the curved sapphire in its cover is non-reflecting, and the face is available in either ivory with 18 karat pink gold details, or anthracite with black rhodium details. Its mechanism is calibrated with the MB 24.17 standard, with a reserve march of up to 38 hours. The current date is shown at 3, and the watch is complimented with a Sfumato leather strap in maroon or grey and can also be fitted with a partially polished three-link chain.
MONTBLANC STAR LEGACY CHRONOGRAPH DAY & DATE 43MM
Powered by the MB24.07 calibre, it has a reserve march of 48 hours and has a central second counter, a 30-minute counter and a 12-hour counter, as well as a date and day indicator. Its available in ivory with white highlights and details in pink gold of 18 karats, complete with blue hands for each of the counters; or anthracite with black rhodium details. The watch is complimented with a Sfumato leather strap in maroon or grey and can also be fitted with a partially polished three-link chain.
HERITAGE
Combining watchmaking tradition and high design, the new watches are available in sizes of 40 and 42 mm. The handles are curves, and they feature a sapphire crystal on the cover. Models are available in bold colours as salmon, tobacco and British green. All presentations have bicolour decoration and are lacquered in a special artisanal fashion, a true statement of Montblanc's savoir-faire. Small indicator dots are positioned every five minutes and vintage numerals are placed at 3, 6 and 9. Sfumato caiman leather straps are available in a variety of complimentary colours.
MONTBLANC HERITAGE MANUFACTURE PULSOGRAPH LIMITED EDITION 100 PIECES
The most notable of the heritage line, there are only 100 available pieces. This watch is inspired by the "doctor's watches", named after the custom of using them to take a patient's pulse. The 40 mm box is made of solid 18 karat pink gold, the face coloured in tobacco and caiman Sfumato leather straps to match. The calibre is visible, showcasing the Manufactured MB M13.21 mechanism, with its main wheel oscillating at 18 000 alt/h. and its iconic "V" shaped bridge, patented in 1921 by Montblanc, and the recognizable Minerva arrow, hand painted with precision. The whole clockwork mechanism is plated in pink gold. Design-wise, elements are directly lifted from the 1940s and 1950s, complete with a convex sapphire smoked crystal, soleil finish and a granulated look. Numerals and indicators are plated in pink gold, and the clock is fitted with dauphine hands for the hours and minutes, while the seconds and extra indicators are tracked by Baton hands, all plated with 18 karat pink gold.
MONTBLANC HERITAGE AUTOMATIC
Presented in 18 karat yellow gold, the face is lacquered in British green and includes a matching caiman leather strap. Details are highlighted in gold, including the dauphine hands, indicators and numerals plated in yellow gold. The lacquer of the face itself was applied by hand in a complex technique which showcases the savoir-faire of Montblanc's watchmakers. This watch works with the MB24.27 calibre, with a march reserve of up to 42 hours.
1858
The most complex and sophisticated watch collection in Montblanc, its inspired in the brand's own tradition. It revisits the design behind the military-grade Minerva watches manufactured in 1920 and 1930, purposely designed for mountaineering and exploration. This edition takes blue colours and white highlights as a reference to glaciers, summits and snow. Each member of this collection shines in its origin: artisanal finishes, ensembled in the MB Manufacture and detailed with bevelled iron and blue ceramic details, each article is an art piece in and of itself.
MONTBLANC 1858 SECOND CHRONOGRAPH LIMITED EDITION 100
A new reinterpretation of the iconic 1930's 44mm Minerva calibre 17/19 watch, this edition shines with is blue degradé enamel, and a 44mm grade 5 titanium box, its face made of solid gold in a Grand Feu enamel finish, applied by hand to last for centuries. The face is treated to be antimagnetic, ensuring precision. It is decorated with vintage white and orange details. A telemetric scale spins around the face, a recall to the historic original design, calibrated to the speed of sound, allowing the user to measure the distance of auditive and visual atmospheric phenomena. It is also equipped with a base 1000 tachymeter which can measure up to three minutes, allowing to measure the km/h or mph velocity of a moving object. An extra addition is the retrapant second counter, developed by Montblanc, allowing to measure intermediate times without requiring the main chronometer to stop. The retrapant counter is centred in the face and is distinguished by its singular orange colour. The calibre behind this watch is the MB M16.31, with pillar wheels and a march reserve of up to 50 hours. A direct descendant of the MB17.29 calibre, it also implements the "V" shaped bridge and its 18-pin wheel, high-watchmaking in it maximum expression.
Manufactured in Villeret, the creative centre of Montblanc gathers the required knowledge to create a fine watch, this particular edition features hand finishes like its Côtes de Genève, inner angles, circular engraving and a bevel, each watch is delicately decorated by the Montblanc artisans. This model is complimented with blue caiman Sfumato leather, made by the Pelletteria de Florencia.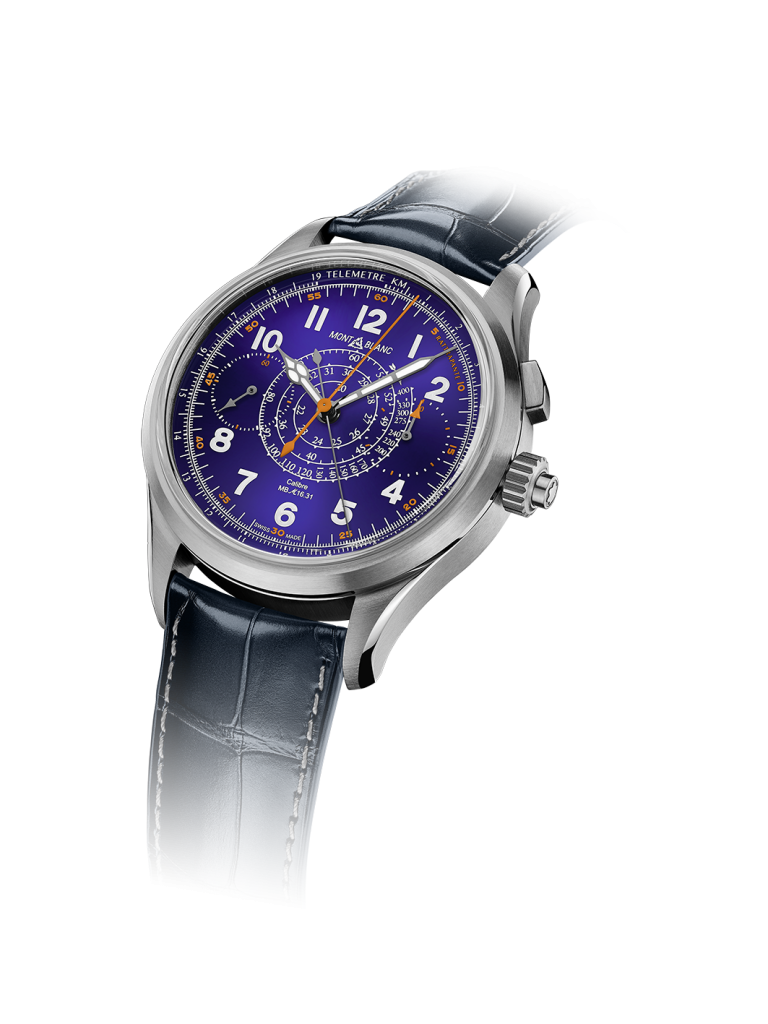 Photos: courtesy.