Waking up in a XVI century palace, richly decorated with a mix of fresco paintings and contemporary furniture, getting an outstanding view of the Grand Canal is all part of the experience offered by AMAN Venice.
With a privileged location in the building of the Palazzo Papadopoli, one of the most emblematic buildings in Venice, AMAN is located right in the heart of the city, on the Grand Canal, just a few minutes away from the main cultural attractions.
Each one of the twenty four rooms is equipped with a king-size bed and a sitting area fully furnished by Jean-Michel Gathy. Up to 103 square meters are available in each room along with luxuries such as views to the main gardens and the GRand Canal, frescoes painted by the artist Tiepolo, decor by sculptor Jacopo Sansovino, chimneys and even chinese, hand-painted sitting rooms.
Guests can also enjoy the famous Spa AMAN, which services include three separate spa suites, and Salsomaggiore Terme's signature treatments, originated in one of the most famous spa regions in Italy. Additionally, the Fitness Studio is also open to any guests, with personalized training in strength and endurance within the hotel's venues, offering panoramic views of the city.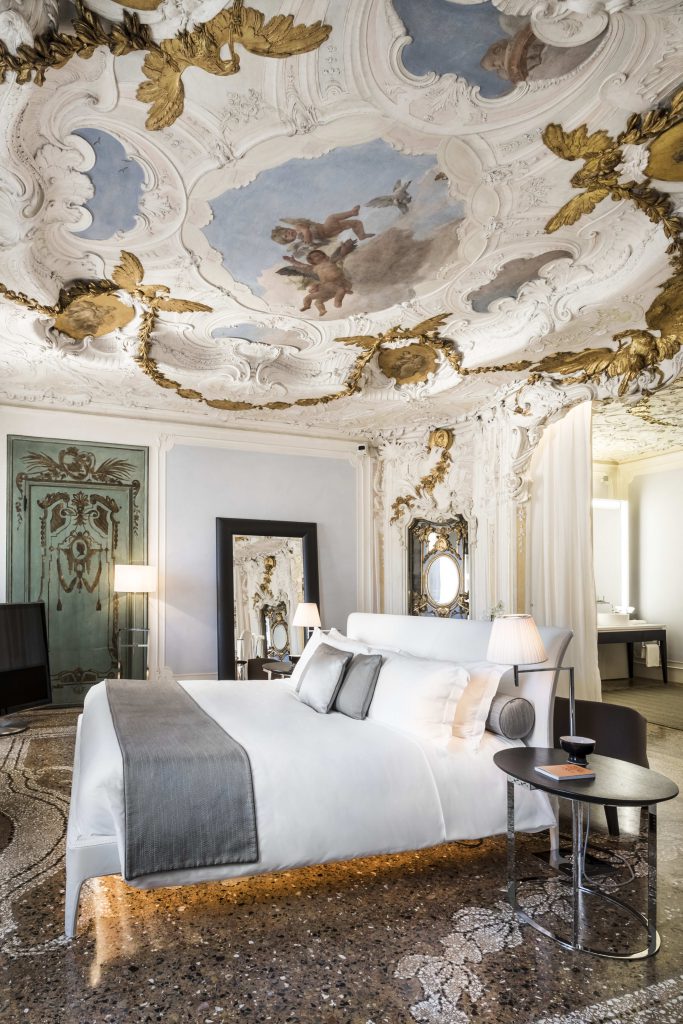 With a private garden, a terrace with full-panoramic views, a lounge on the fourth floor, and a library housing new and antique books, AMAN Venice creates a space of intimacy with no comparison in Italy.
Each of these spaces can be used for private events, through a full-hotel reservation, guests have unlimited access to all the venues, and hold events for up to 150 people within the beautiful gardens built by the Papadopoli family in the XIX century; the Piano Nobile, which includes beautiful ballrooms and a dining room; or the smaller rooms for a more intimate experience.
Last but not least, AMAN's cuisine is a prominent feature, versatile between the simple and the suntouse: two restaurant and a bar offer food supervised by the acclaimed Davide Oldani, Michelin-starred chef. Using fresh ingredients picked daily from the Rialto market, AMAN's kitchen is the golden lace in a complete, intimate, luxurious and elegant experience in the heart of one of Italy's most beautiful cities.
Photos: courtesy.