Few brands leave as big a mark on the historic highway of automotive design as Ferrari did for the first time in 1948, introducing us to the Model 166MM Barchetta at the Turin motor show. A great impact that would not only pave the way for what would be a splendid period for Ferrari sports cars, but also for fans of the competition, seduced by the elegant red bodywork, the slender lines and the magnificent roar of an engine v12. Now, with an elegant shape, sinuous lines and technological innovation, the new Monza SP1 and SP2 models arrive, connecting through an invisible thread with the glorious past.
The designers of the Ferrari style centre took the Barchetta concept and decided to take it to a new horizon called "ICONA", moving away from the nostalgic aspects and without explicit content rescued from the past. The new Monza SP2 model is expressed in its proportions, refined details and essential lines, both in its elegant shapes and in the wing profile of its carbon bodywork.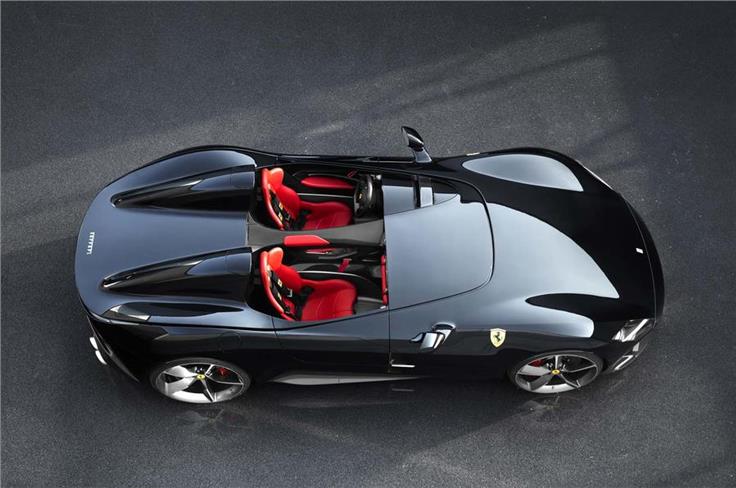 The atmospheric v12 Ferrari engine promises to be the most powerful ever created. It is the first aspiration engine designed to benefit from the 350 bar direct injection system. In addition, the variable geometry intake duct control system derived as a concept from the aspirated f1 engines has been implemented.
The interior was a complete rework based on new driving needs and demands. Starting with the driver's seat, a perspective that appreciates the subtle limit between inside and outside; however, the driver's body is fully encapsulated inside the vehicle.
At your fingertips we will find the instrumentation, the steering wheel and the air vents. The austere passenger compartment fully collects, at the height of the arms, the rest of the functional commands and concentrates them in a single panel, extremely simple and devoid of stylistic adornments.
The monocoque carbon seat is made of leather and gives the interior an exquisitely personalised look, as well as the sparse upholstery, worked only in certain areas with the intention of guaranteeing comfort while driving.
The new Ferrari Monza does not intend to stay in the past, but is committed to a bright future. A new segment of limited series for those customers who treasure history, and reinterpret a timeless style following modern canons, accompanying it with highly technological content, together with the highest benefits, the result of continuous research in the field of innovation.
Photos: courtesy.
---

Subscribe to our newsletter to get all the news  for those who chose luxury as a lifestyle.