"Elegance is not about being noticed, it's about being remembered." Giorgio Armani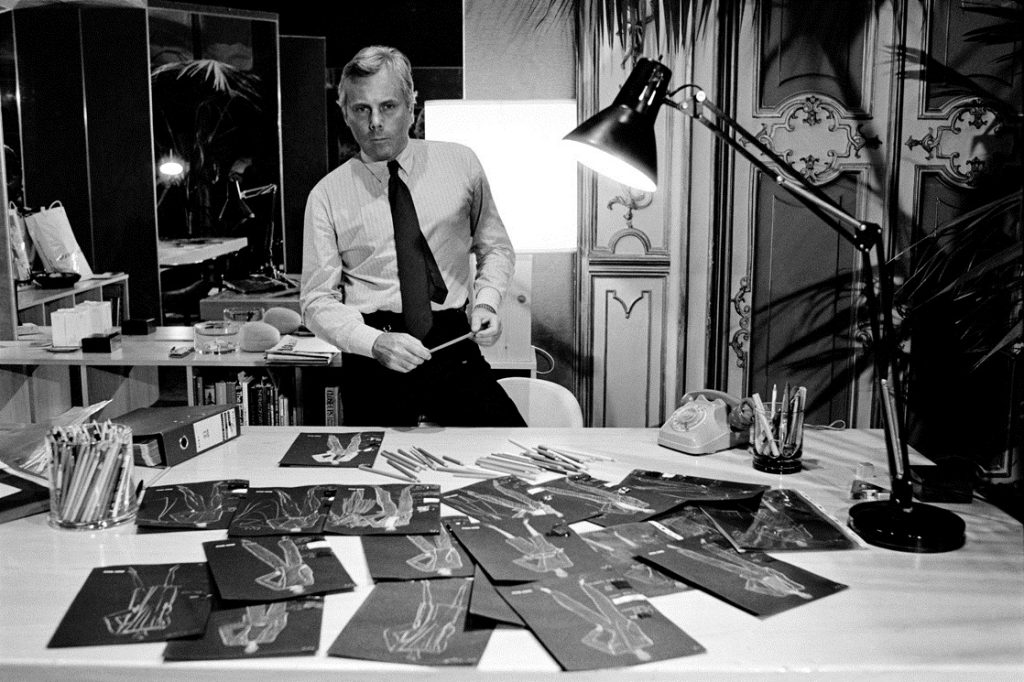 In 1934, in Piacenza, on North Italy, a boy was born who would soon become an iconic designer that would revolutionize fashion and come to be associated with tailoring excellence. Giorgio Armani, born shortly after World War II began, was soon accused by his father of collaborating with Benito Mussolini's regime, making his life take an unexpected turn. Soon after, he obtained a scholarship to study on the medical field, but abandoned this path shortly. He then became a retailer on Milan's most exclusive boutique, La Rinascente, where Armani would also design apparel motifs. It was then that he found his true calling among cloth and textures, elements that seduced him and keep him entrapped to this day.
Meeting Nino Cerruti, business man and stylist, marked Armani's path deeply. They collaborated for some time in which Giorgio Armani absorbed the formal aesthetic and tailoring techniques that defined the Italian designers. In 1975 Armani decided to create his own brand along Sergio Galeotti, and together they opened their own boutique in Milan, inaugurating as well a new era for masculine fashion, mixing in elegance and style with a touch of femininity.
By this time Armani was in search of something new that escaped the proposals of other established designers. His aim was a new piece that would allow free movement and maximum comfort. This eventually led to his breakthrough design of a deconstructed suit, getting rid of inner linings and bulky fillings; he also modifies the proportion and placing of buttons. This would radically transform male fashion and would open up a whole world of menswear possibilities.
Giorgio Armani was a promising designer in the fashion industry, especially for his innovations on male attires. This would eventually bring him to Hollywood, where he was commissioned with the wardrobe design for American Gigolo. His statement was heard among all men, his jackets a mainstay in the yuppie culture.
The brand kept on growing exponentially, and in 1981, Giorgio Armani launches Armani Jeans, Armani Junior and Emporio Armani branches. This is the time when an imperial eagle, coated in his initials, takes place as the symbol of the band, being present on every accessory up to the present. Armani kept on climbing up the fashion ladder and in 1982 decided to reach out of menswear into female fashion, launching the Armani Pour Femme fragrance, as well as lingerie and accessories.
Two years later the first masculine fragrance from the Armani brand is created but does not launch. Renewed popularity came upon the brand thanks to Miami Vice, a television series where actor David Johnson would use Giorgio Armani's sport line frequently. Finally, in 1995, the fragrance for men, Aqua Di Giò, was made available to purchase. On an ever-expanding quest, a cosmetic line was created shortly, and the Armani brand expended to the hostelry industry with two prime hotels in Milan and Dubai, where the Giorgio Armani essence is embodied in the furniture and the overall experience, tailor made for a modern man in search of luxury and privacy, all carrying the Armani seal.
"The brand's continuity is already established in all its aspects, even the creative one. Anyways, I do not plan to retire anytime soon. My work is my life, and I do not have any intention of giving up on it."
With all his determination, the designer has also been noted for knowing when to pull back. In February 2020, Fashion Week was taking place in Milan, reuniting designers, editors, models, photographers, make-up artists, and stylists; a massive event that takes place twice a year on the world's Fashion Capitals to present next season's collections. However, several countries were facing the adversities caused by the COVID-19 pandemic, and Giorgio Armani took the firm decision to be the first designer whose show would take place in a private space and without public. This preventive measure ensured the wellbeing of his team and the guests, marking a crucial decision in the fashion industry at the time.
His strong character and his high standards are noticeable even today. In a recent open letter to Miles Socha, Samantha Conti, Alessandra Turra and Luisa Zargani, he responded to the article titles Tipping point: Will the Flood of Collections Yield to Slower Fashion? In said article, the question arose on whether or not disproportionate splurge in fashion would negatively affect the industry as a whole. Armani answers: "The decline of the fashion system as we knew it began when luxury adopted fast fashion methods. The top of the range imitated the frenetic pace of endless deliveries, hoping to sell more. But luxury cannot and must not be rapid. It doesn't make sense for my creations to stay in the shop three weeks before they become obsolete. I don't work like that and I find it immoral".
This thought is followed closely, stating that people should take into account the production time and the hands making the clothes, and Armani invites to reconsider the way fashion is selling and being consumed. It is priority to abandon patrons adopted form fast fashion and concentrate in the necessary collections for the consumer. He goes on: "This crisis is an opportunity to slow down and realign everything; to define a more meaningful landscape." He speaks of focusing on authenticity and "regaining human dimension." He closes with an uplifting message in these uncertain times: "It is nice to see that in this sense we are all united. For retail, this will be an important stress test. I want to send my heartfelt encouragement to the American fashion operators for the difficult weeks they will face ahead. United, we will make it. But we have to be united and operate in unison: This is perhaps the most important lesson we can learn from this crisis."
Armani's meditation on these complex themes faces the fashion industry with itself, revealing the necessity of an in-depth evolution, which goes beyond the "new" collections every six months. It is about opening a conversation with the client and open new communication channels, taking advantage of digital media and creating true interaction. High couture must adapt to the challenges of the future, however difficult these may be.
At 86, Giorgio Armani manages his brand personally. Thanks to his brilliant direction, it has become the most distinguished independent Italian brand in the planet, creating several collections a year and owning over 700 stores across the globe. His style is recognizable the world over, his Italian touch prevailing everywhere. However, in these trying times, his ateliers are taking a break from design and high couture and are instead manufacturing one-use medical robes, donating them to hospitals across Italy along a 2 million euro donation to the Italian health system, a true altruistic action.
Today, Giorgio Armani still carries that youthful spark he acquired back in La Rinascente, he personally designs the storefronts for his Milan boutiques, apart from creating all the male and women collections for his House and supervises his hotels closely. He keeps close track of the whole ecosystem the Armani brand has created and prides himself over it. His main characteristic is, perhaps, his authenticity: he gleefully enjoys disco music, designs and takes care of the people he cherished the most. He defines himself as a happy man. "I am a simple man whose feelings simple, but profound."