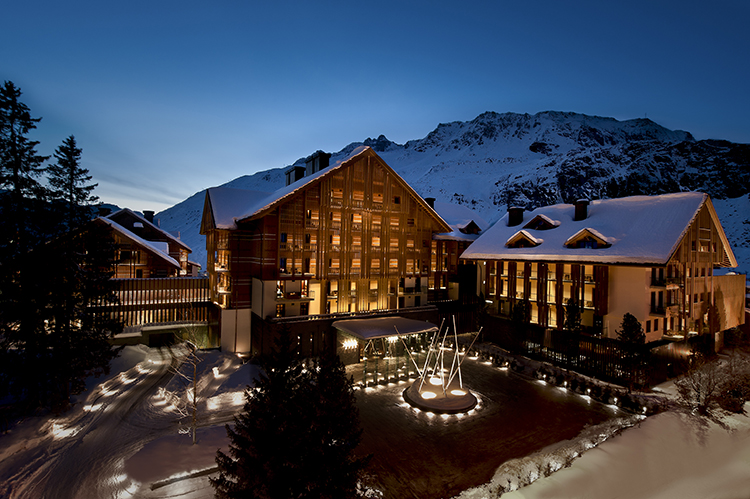 GaultMillau's Hotel of the Year 2017, located amidst the Swiss Alps just by the latest Swiss hotspot village, Andermatt, the Chedi is the best destination for relaxation and escapism. This 5-star hotel features top-of-the-notch architecture that masterfully merges Asian and Alpine styles for a unique experience in comfort and luxury.
A privileged locale, the Chedi is a short way from Andermatt, a newly revived village now home to small exclusive boutiques, cafés, après-ski bars and restaurants, while also being right next to the Gemsstock Mountain and the Schöllenen gorge. Easily reachable from Zurich, Munich and Milan, the Chedi provides an excellent escape from everyday routines to find true relaxation.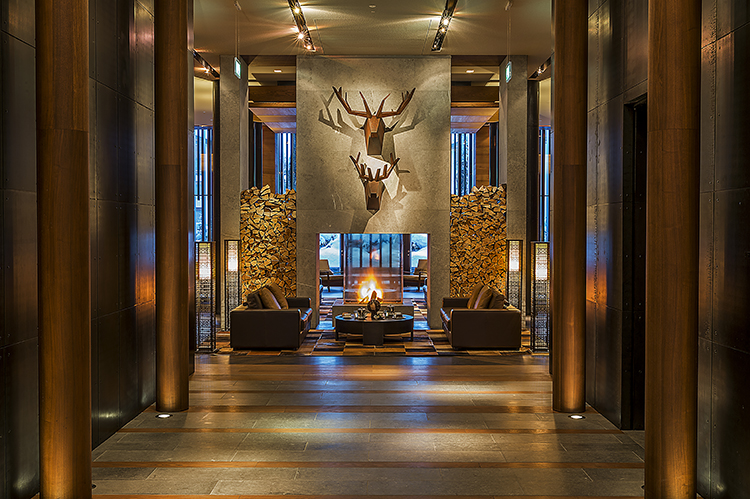 Meaning "temple" in Thai, the Chedi is focused on the guest's experience; the whole staff making sure each patron feels well cared for and heavenly. Ample spaces, three-meter high ceilings and panoramic windows proffer a full view of the astounding mountains surrounding the venue create an atmosphere of elegance and carefreeness. The Chedi goes out of the way to provide an unparalleled experience, combining Asian decoration such as prayer columns, granite Buddha statues and orchids mix with dark wood surfaces, natural stone and reductive design. Leather armchairs, velvet lounges and open fireplaces create a zen flair to enjoy an effective escape from hectic lives.
Knowing full well that in today's world it is important to make the most out of precious little free time, the Chedi offers year-round activities to appeal to all sensitivities. A foot or Jeep tour through the Urserntal pass on an Herbal Hike to learn about millenary healing herbs, a visit to a traditional cheese dairy to uncover the secrets of handmade Schafmutschli and Gottardo cheese, a five-day Mountain Boot Camp for the athletic inclined and the Panorama Drive on a 1951 Willys Jeep along secret military roads are all offered by the Chedi to accommodate every guest with a unique and uplifting experience.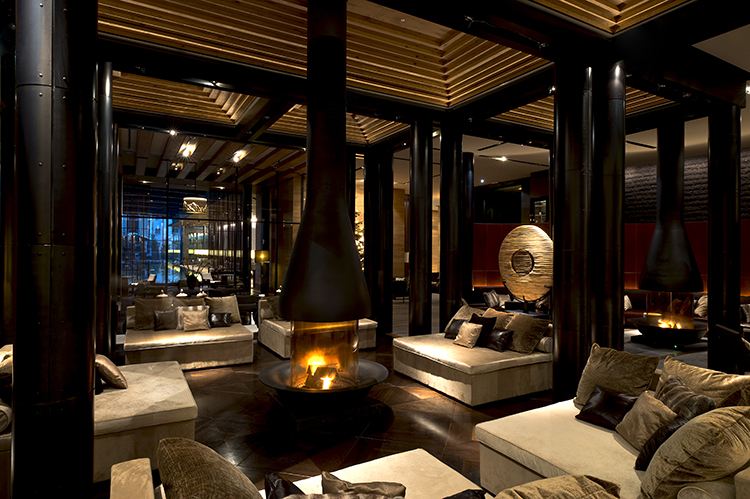 Other amenities are also available year-round for a truly sophisticated stay. Five restaurants provide guests with exclusive culinary experiences. The Restaurant, directed by Chef Armin Egli, is awarded with 14 out of 20 GaultMillau points and has four open studio kitchens so guests can watch their food be freshly made. Along with The Wine and Cheese Cellar, a five-meter high apparel where guests can sample over 40 varieties of regional and international cheese delicacies, The Restaurant is a favorite in the house. The Japanese Restaurant by Chef Dietmar Sawyere offers sushi and sashimi bars, a modern five- to ten-course Kaiseki menu and a selection of 99 fine Sake bottles. This venue mixes color, texture and taste to perfection and as such has been awarded with one Michelin Star and 16 out of 20 GaultMillau points. The Bar and Living Room, The Lobby and The Pool yield culinary highlights of Swiss, western and eastern cooking to be enjoyed all around the facilities. The Courtyard is ideal for the Fall-Winter months, proffering a privileged place to enjoy fresh drinks while observing the Swiss Alps around the Chedi. In the winter, however, it turns into The Ice-Rink, inviting guests to ice-skating or curling. The crown jewel is The Japanese by the Chedi on Mount Gütsch. Here, Chef Dietmar Sawyere refines the concept of The Japanese at 2300 meters above sea-level and presents guests with freshly prepared shidashi bentō, omakase, kaiseke, sushi and tempura.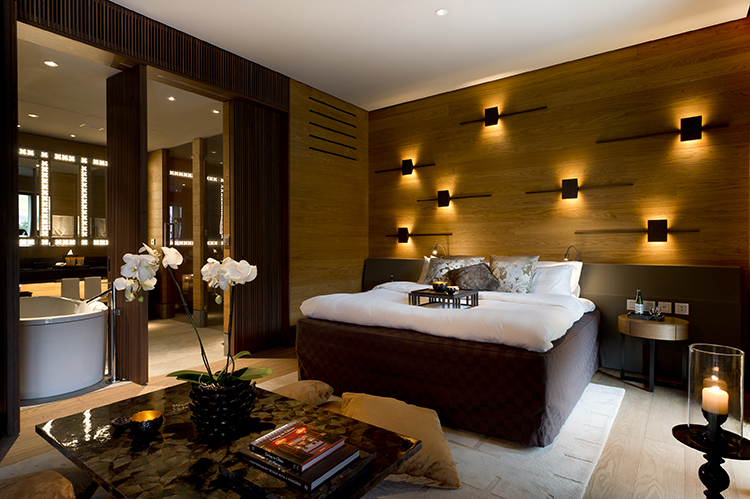 Indulgences do not end here, as the Chedi also features the Cigar Library where guests can chose out of over 330 top cigars from all around the world, hosted by Marie Gerber, who will help each guest find the right choice among the rarities and special editions. The Wine Library in turn offers a world-wide selection of high-end wines, being named the best winery in Switzerland twice in a row.
The Chedi also prides itself in a very special Spa and Health Club with over 2400m2 in extension. In here, visitors can enjoy a Thai-style massage in the Tibetan Relaxation Lounge, a 35 meter pool and sauna area, and different, customized Far East spa treatments, as well as use the latest Technogym equipment should one so desire. Personal trainers, yoga and pilates studio, and private or group sessions are also available on request.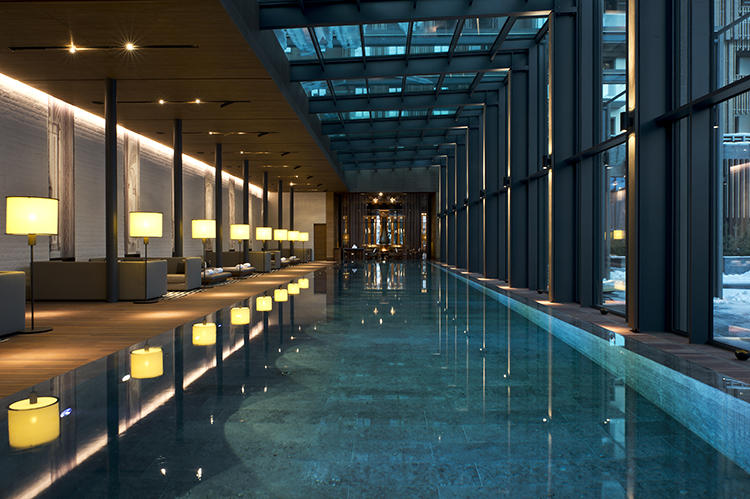 Of course, the rooms in the Chedi are up par with the rest of the facilities. 123 exclusive rooms and suits with different characteristics ensure guests have a comfortable time while staying. Dark wood, soft leather and gentle colors large windows, murals inspired by Peter Paul Rubens and wood paneling are the main staples in each room, while each bathroom is inspired by Asian architecture with large bathtubs, heated stone floor and rain showers, each provided with Acqua di Parma bathroom products. The Deluxe Rooms, four 4 people, range from 52 to 55 square meters, while the Junior Deluxe Suite offer a luxurious and intimate stay in a 90 square meter space. The Gemsstock Suite is a four-people, 134 square meter room ideal for observing the Gemsstock peak high above the clouds through the spacious windows.
Overall, the Chedi lives up to its name, a temple in the middle of the mountains with a different experience for each guest. Luxurious, comfortable, sophisticated but also relaxed, carefree and lacking the stiffness of regular five-star stays. A special place for those aiming to escape a hasty life and simply relish in nature and high-end commodities.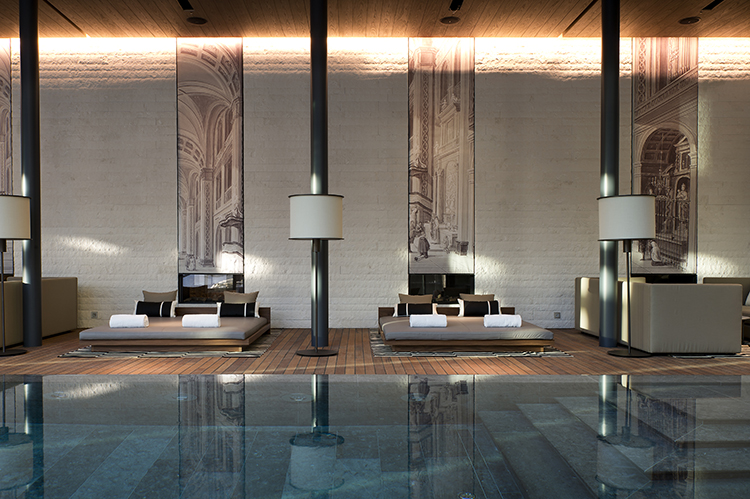 Photos: courtesy.